Our objective is to provide a quality mission, comprising a functional and technical capacity, to meet the expectations of our customers.
In the field, our consultants operate at the heart of the client company. Therefore, we are able to bring effective and operational computer security expertise, corresponding to the business of our customers.
All of our experts divide their time among three dominant areas‬ :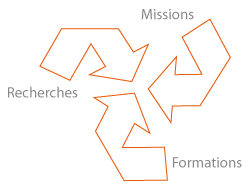 Research :
Our "research and development" policy allows us to offer original tools to track the evolution of computer security, namely proven and sustainable software and methodological solutions.
Training‬ :
Our expert computer security consultants undergo training or create self-training courses to acquire and maintain the knowledge necessary to master equipment and methods analysis. This approach allows us to provide high quality missions.
Mission :
The status of our consultants and the very low cost of our infrastructure allow us to maintain very competitive pricing with regard to the quality of our interveners, who all specialize in computer security. They are experts who are passionate about their line of work.
Benefitting from these three areas, every member of our company continually evaluates new tools and vulnerabilities, and they share their knowledge within the company. This approach allows us to better meet the expectations of our customers and build a long term relationship of trust.