After 9 months of development focusing on implementing advanced security concepts to harden each application brick and the heart of the Tacio solution.
We chose to provide Tacio technology with its own identity attached to a logo specifically created for it. Therefore, we proposed a set of concepts combining the concept of security with our solution. For example:
data exchange protection,
data storage protection,
hardening of the applications,
countermeasures against piracy,
data theft resistance,
traceability of exchanges,
encrypted virtual private networks,
a tribal circle/seal,
Therefore, as a result of a long meeting on the security of information systems, our graphic designer was able to offer us the Tacio logo below, which will equip all of the different Tacio solution security components before the end of the year.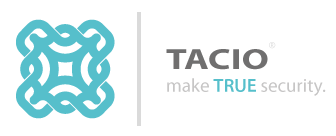 Tacio, with its secure time stamp abilities and different levels of information storage, is one of the only solutions available in 2014 that offers a viable alternative to electronic strong boxes that are available from many computer data protection solution suppliers.