The cloud is applicable to many companies, but not for Talsion Defense. We have chosen to not position ourselves within this dynamic. Thus, we are in charge of our own business architecture that is deployed in one of the Interxion company's ISO 27001 datacenters and on servers that are inside the same walls as our business.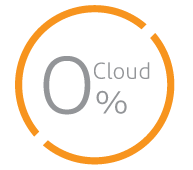 Therefore, we have chosen to apply the following points:
0% cloud technology,
0% of customer data (Report, CDRom) archived outside our internal network,
0% permanent connections between our network and our datacenters,
0% link between our company's internal network and the Internet,
0% server virtualization outside pylabs (expected before the start of 2015).
This last point is a security challenge for our business that goes against the current technology virtualization that was ongoing with our previous MARS architecture.
To win this challenge, we chose to focus our efforts on ARM technology. This approach brings us extreme server density, while keeping part of the usual flexibility related to the world of virtualization. In addition, this focus enhances information system security and isolation of each application.